Nine Super Puma helicopters flying again after ditching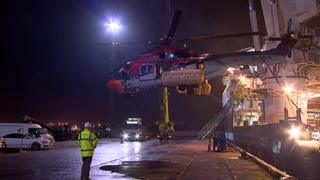 Nine offshore Super Puma helicopters have returned to service after being grounded following Monday's ditching.
The Civil Aviation Authority (CAA) banned some types of the aircraft from flying over water - but other versions have been allowed to resume flying.
Contingency plans are being drawn up by oil industry representatives to get the hundreds of workers thought to be stranded offshore back home.
All 19 men on board the CHC-operated Super Puma EC 225 were rescued.
A total of 25 helicopters are still grounded.
Gearbox monitoring
The aircraft ditched during a flight from Aberdeen to the West Phoenix rig, west of Shetland.
Air accident investigators found it had suffered a cracked shaft in the gearbox.
Manufacturer Eurocopter has ordered extra safety checks and said gearboxes should be monitored more closely and at more regular intervals.
The French company said Monday's problem was similar to one which caused a helicopter to ditch in the North Sea in May.
The move to allow some aircraft to fly again was agreed at a meeting of the oil and gas industry's Helicopter Safety Steering Group in Aberdeen on Thursday.
A spokesman for the group said the EC 225 version could be grounded "for weeks".
Industry body Oil and Gas UK also indicated it was too early to say when full offshore helicopter operations could be reintroduced.
Operations director Paul Dymond said: "This current suspension is supported by the industry until we can have increased certainty around safety of the aircraft involved.
"Naturally the knock-on effects of this are delays and backlogs of flights with considerable inconvenience to the workforce and the potential to impact offshore operations."
He added that preparing for the potential of a longer-term impact could require greater industry collaboration.
A spokesman for Bond said: "Bond Offshore Helicopters will not compromise safety and are working hard to assist its customers in finding creative solutions to help them during this challenging time for the industry."