Restriction imposed on Super Puma helicopter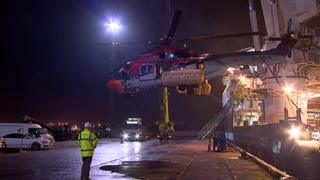 The Civil Aviation Authority (CAA) has banned the use over sea of helicopters similar to one which ditched off Shetland.
The CAA order applies to all Super Puma EC225s and some AS332s, except those involved in "life-saving" operations.
The manufacturer has ordered extra safety checks in an attempt to prevent a repeat of the incident.
An air accident report on Monday's ditching said it was caused by a serious gearbox failure.
All 19 men on board the Super Puma EC 225 survived.
Eurocopter said gearboxes should be monitored more closely and at more regular intervals.
The French company said Monday's problem was similar to one which caused a helicopter to ditch in the North Sea in May.
It said all its efforts were now being devoted to fully understanding the root cause of the failure.
Eurocopter executive vice president Derek Sharples told the BBC Scotland news website: "I understand that Eurocopter has to rebuild confidence in our company.
"Eurocopter has issued a new set of measures to reassure operators, crew and passengers that the aircraft is safe to fly. With these measures we seek to eliminate any reoccurence.
"We understand these concerns and take them seriously. Two ditchings are two too many."
Investigators found a failure in the lubrication system of the helicopter which ditched near Fair Isle.
A special bulletin issued by the Air Accidents Investigation Branch (AAIB) said the main and standby oil pumps were not working.
Shaft crack
All those on board the Super Puma EC 225 were rescued safely after it ditched during a flight from Aberdeen to the West Phoenix rig, west of Shetland.
The AAIB report suggests that the helicopter came close to being involved in a much more serious incident on Monday.
The bulletin said a 360 degree crack was found on the bevel gear vertical shaft of the helicopter.
This crack prevented the oil pump gears from being driven.
The AAIB said the European Aviation Safety Agency (EASA) and the manufacturer were urgently reviewing the effectiveness and scope of an airworthiness directive previously issued for this helicopter type.
Flights by other aircraft of the same type have been halted.
'Growing concern'
BBC Scotland has also learned that two North Sea search and rescue Super Pumas operated by BP have been restricted to "life-saving" operations only in the wake of the incident.
These are rescuing people from the water, and "life and death" medical evacuation cases.
BP said it was looking at bringing in Sikorsky aircraft to provide temporary cover while the industry examines the evidence from the CHC-operated Super Puma ditching.
Balpa, the union which represents professional pilots, said there was now "growing concern" amongst pilots and offshore workers.
'Saving lives'
Willie Wallace, regional industrial officer with the Unite union, said: "We clearly have a problem with the gearbox components on these particular helicopters.
"The manufacturer Eurocopter has ordered safety checks and said that 'two ditchings is two too many'.
"We agree. We cannot rely on luck to keep saving lives."
The crew of another Super Puma helicopter ditched in the North Sea in May after a gearbox failure.
All 14 passengers and crew involved in that incident, about 30 miles east of Aberdeen, were rescued.
A special meeting of the industry's helicopter safety group is due in Aberdeen on Thursday afternoon.