Campaign targets dog fighting and badger baiting in Scotland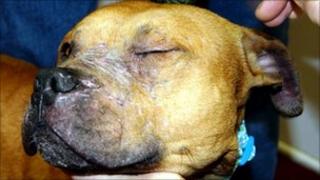 An appeal for public information to help break dog fighting and badger baiting rings has been launched by the Scottish SPCA.
The animal charity said the secretive crimes were "barbaric and cruel beyond belief".
Ch Supt Mike Flynn said: "Many people will be shocked that these sickening activities are still going on in Scotland."
He said the crimes were taking place throughout the country.
Ch Supt Flynn explained: "Animals are still being forced to fight, often to the death, and the pain and suffering they endure is horrendous.
"Dog fighters and badger baiters are extremely secretive about their activities and don't tend to take their dogs out in public as people would be alarmed by their injuries and scars.
"Rather than take their dogs to a vet, they will often be treated at home, which can prolong their agony and lead to infections which are sometimes fatal."
He added: "While these crimes are taking place throughout the country, we have received intelligence that dog fighting rings are operating in Grampian, Glasgow and in and around the Edinburgh area.
"Badger baiting is rife throughout the central belt, including the Lothians, Borders, Strathclyde, Ayrshire and Dumfries and Galloway.
"What we need now if further information to help us identify the people involved and to save animals from horrific abuse."