RSPB Loch of Strathbeg collection box thieves criticised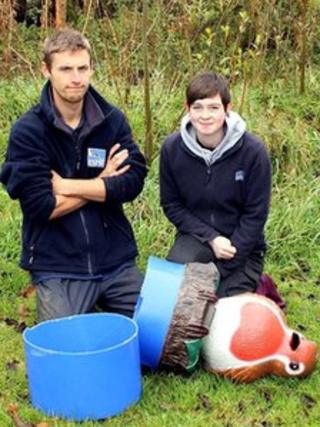 Thieves who destroyed a robin-shaped donation box at the RSPB's Loch of Strathbeg nature reserve have been criticised.
Staff realised the donation box was missing on Tuesday, and found it sawn in half in a ditch.
Volunteer Catherine Wilkinson said: "They've probably taken just a few pounds but destroyed a brand new robin which could cost us £250 to replace.
"We know how important people's donations are."
She added: "It's incredibly disappointing that someone would do something like this."
Visitor centre officer Diana Spencer explained: "This is the latest incident in a spate of petty vandalism.
"We empty all our donation boxes every day so there's never any significant amount of cash in them.
"If this continues, we'll have to look at closing the centre earlier or opening later, which will affect all of our visitors."
Loch of Strathbeg is Britain's largest sand dune loch.