'False warning' led to Super Puma ditching in North Sea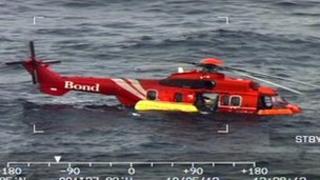 The crew of a Super Puma helicopter ditched in the North Sea as a result of a false warning, a report has said.
All 14 passengers and crew involved in the incident in May, about 30 miles east of Aberdeen, were rescued.
The Air Accidents Investigation Branch (AAIB) said the crew carried out the controlled ditching due to a system failure warning.
However, its report revealed: "The system had given the crew a false warning."
It states: "The evidence indicates that the emergency lubrication system had activated and remained operating for the remainder of the flight.
"This warning resulted in the crew ditching the helicopter in the sea.
"This was the first time the MGB (main gearbox) emergency lubrication system on the EC 225 had activated operationally.
"It is recommended that the European Aviation Safety Agency requires Eurocopter to review the design of the main gearbox lubrication system to ensure that the system will provide the crew with an accurate indication of its status when activated."
The investigation continues.