Care centre residents' 'thank you' for mystery flowers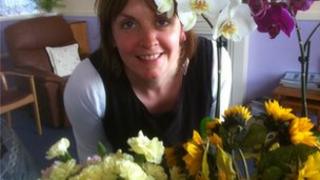 News stories can come from anywhere. This one came to light during BBC Radio Shetland's Friday night request and dedications programme "Give Us A Tune".
The message said: "The Nordalea residents would like to thank the person who is very generously sending us flowers. They are much appreciated."
And that was enough to get me on on the road, and two ferries, north from Lerwick up to Unst.
At the Nordalea care centre in Baltasound I met social care worker Ruth Grainger. And she confirmed that it was true.
"Every now and then we get a couple of cardboard boxes full of cut flowers delivered," she told me.
"We don't know who puts them there. Sometimes they hitch a lift up with somebody, but they don't know who they've come from."
"They just come here, and they're anonymously given. We don't know who's giving them."
And she says it makes a real difference to the residents at the centre.
"It's really fine for the folk, because they ken that somebody is thinking of them. And it's just lovely to have some flowers in your room.
"There's that many of them, and we have seven beds here, that we can put cut flowers in a vase in every single room. And there's still a whole lot left over for our sitting rooms."
And James Barclay, one of the residents at Nordalea agrees.
"It's good. It brightens the place up," he said.
He told me he knows "nothing" about where the mysterious floral gifts come from. But he agreed it must be someone very generous who's sending them.
The only thing Ruth Grainger knows is that the flowers are being bought in bulk from supermarkets, perhaps when they're sold off close to their "Best Before" dates.
"Whoever it is, is buying them all up. But they're still really good. And they last for a good week, or two, or three after they've arrived here."
And it's possible that Nordalea is not the only place getting these generous gifts.
"I believe perhaps some other care centres have been recipients as well," Ruth Grainger says.
"I'm not sure if they still are. Or maybe whoever it is is taking turns with different care centres. I'm not sure."
But she stresses no-one at Nordalea has a clue who's sending the flowers. And that everyone there would like to say "thank you very much" to whoever it is.