Prince Charles backs Broadford Works regeneration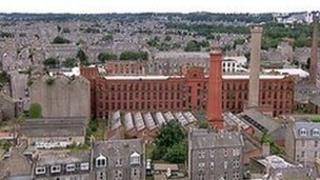 Prince Charles has been visiting the derelict Broadford Works mill site in Aberdeen amid hopes new life can be breathed into the area.
The former Richards textiles mill has become a target for vandals and fireraisers.
The Prince's Regeneration Trust has been playing a key role in finding a future for the site.
The trust's Kit Martin said cafes and shops could be a feature of the site, which could be "something special".
He said Prince Charles was "incredibly excited" by the prospect.