Aboyne nursery E. coli report criticised by mother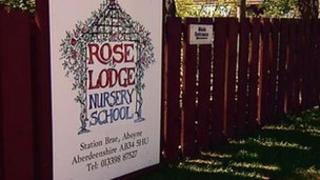 The mother of a 22-month-old boy left with serious health problems after an E. coli outbreak at an Aberdeenshire nursery has hit out at a report into the incident.
The outbreak centred around the Rose Lodge Nursery School in Aboyne in May.
It was most likely caused by one youngster spreading it to others due to a failure of hand hygiene, a report on Tuesday said.
The mother said her child had lost his sight, and that many questions remain.
The report said it was most likely caused by one youngster having contact with animal faeces in nearby fields or by drinking contaminated water at home.
It then spread to three other infants, two staff and a family member at home.
Paul Santoni, of Freelands Solicitors, said the child of the mother he was acting for was still "very seriously ill". The mother does not want to be named.
A statement said: "An MRI scan has indicated that there has been some damage to the brain.
"He has lost his sight. He has severe hearing loss. He had complete kidney failure. His kidneys will not function again. He is likely to be on dialysis for life.
"The long-term effects are still unpredictable and uncertain other than that they will be very severe.
"The mother has been permanently residing in the hospital complex to care and attend to the child and is at the hospital from about morning until late evening seven days a week."
'Forgotten about'
The statement added: "She has stated that the report does not answer anything for her.
"She does not understand how the staff contracted E. coli 0157. Was it just their failure to wash hands? She does not know how the outbreak occurred. She would like to have a proper explanation.
"She believes there has to be more information available and that the report prepared does not really cover these.
"She specifically wants the public reminded about how aggressive E. coli 0157 can be.
"She believes that she and the child have been forgotten about and that she is very angry about that."
An NHS Grampian spokesman said: "If the parents require any further clarificiation, they should contact the health protection team.
"We will be happy to meet them to discuss their concerns."