Bringing Shetland's fishing lodge history back to life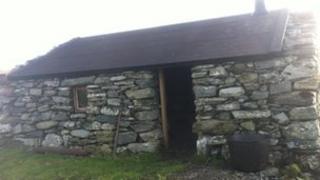 A Shetland family who have spent the past two years restoring a ruined fishing lodge say the project has brought the islands' forgotten fishing history back to life.
Bobby Gear said: "When I was younger, it was just a rumble of stones. We used to come shooting rabbits around these piles of stones. But I never knew what it actually was."
He guides me from the road, at South Nesting on Shetland's east coast. We walk past his brother's vegetable plots, towards a rocky beach.
"Then dad told me that they'd always known it as The Lodge," he said.
It turned out that the building had indeed been built as a bothy or lodge for fishermen, sent to sea by the local land-owner. But it had been practically demolished by a mighty storm that ravaged Shetland in the year 1900.
"It was a really terrible storm," Bobby explained. "A lot of boats were destroyed. A lot of buildings destroyed as well."
He has just completed a PhD into the history of Shetland's pelagic fishing industry. So the thought of working on something practical, that complemented his academic research, was an attractive one.
Bobby said: "You're sitting at a desk from nine to five, pretty much every day, for three years altogether. So it was nice to have something on the weekends that was a bit practical, but also applying my knowledge."
So Bobby and his father have spent just about every Saturday for the past two years investigating, and reconstructing, the building.
It all started with digging out the piles of stones.
He said: "That was how it started. I just wanted to see if there was anything left."
And the building soon started producing artefacts. Nothing spectacular. But plenty of finds that revealed the ordinary domestic life of the men who would have based themselves at the lodge in between fishing trips.
The remnants of a tea pot. Smashed plates - one with tiny, carefully drilled holes for a metal staple, which showed it had been painstakingly repaired. Cork floats. Stoneware bottles. A few animal bones. And lots of whelk shells, which appear to have been boiled up so the shellfish could be eaten.
Dr Ian Tait, from the Shetland Museum and Archives, said it was the very ordinariness of the finds, and the building itself, which makes it so important.
"The specialness of Bobby's fishing lodge is the fact that it is, on the face of it, not special at all," he told BBC Radio Scotland's Good Morning Scotland programme.
"There's an understandable desire to renovate fancy buildings, unusual buildings. Shops, and military buildings, and churches, and lighthouses, and landlords' mansions, and that kind of thing.
"But they were only a tiny stratum on top of the general seam of buildings in Shetland. Most buildings in Shetland, whether it's barns, or byres, or fishing lodges, they were the least architecturally ambitious. And they are the ones that folk pay least attention to now.
"So thank goodness somebody has paid some attention to it, because I have far more affinity with a fishing lodge than I do with any laird's hall."
And Bobby said the work - which soon developed from excavation to re-building the ruins of the lodge - has brought a bit of Shetland's fishing history back to life. That was thanks in part to a grant from the Shetland Amenity Trust, towards re-roofing the building.
He added: "People know about the big (fishing) stations. But they don't know as much about the tiny lodges that were dotted round most of the townships.
"Most of them have gone, so it's kind-of highlighting a lesser known part of our history."
And, perhaps even more importantly, it's put him in direct contact with his ancestors who worked the land and fished the sea generations ago.
Bobby added: "The records start from about the 1870s, so I know that my great-granddad was fishing from (the croft) Aswick.
"And there's a record of his boat, so I imagine he would have been using the lodge. Perhaps not to stay in, at that point. Perhaps they might have been using it as a sort-of storage place."
But, he said, "this is on my family's croft, so it's really nice to be able to work on something that they would have lived in".