Head in bin man William Middleton: 'I was looking for my hat'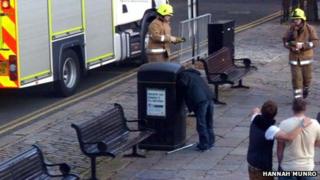 A man who had to be rescued after getting his head stuck inside a bin in Aberdeen has said he was trying to recover his hat.
William Middleton said he had been nicknamed "bucket heid" after a photograph of his ordeal was shared on social media sites by tens of thousands of people worldwide.
He was cut free by firefighters after the alarm was raised on Sunday.
He said: "I was looking for my hat. I was stuck for about 20 minutes."
Mr Middleton, 53, explained: "I couldn't get my head out. It was shocking. It was stinking. I'm now known as bucket heid."
Hospital check-up
One witness, who did not want to be named, said: "I walked around the corner and saw his walking stick on the ground and his bum sticking out and said 'that's Willie'.
"Me and my pals tried to pull him out but his ears were stuck."
Mr Middleton was taken to hospital for a check-up, but a photograph of his ordeal soon spread across Twitter and Facebook.
The incident happened in Aberdeen's Justice Street.