Osprey hurt in storms nursed on North Sea vessel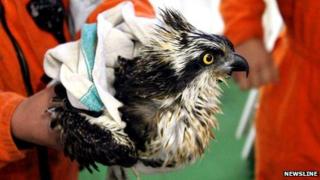 An osprey hurt in the storms which battered Scotland last week was nursed by oil workers after landing on a North Sea vessel.
Staff on Fugro's Skandi Carla boat found the injured bird and feared she would not survive.
Now named Carla, the crew fed the bird before she was transferred to Technip's Apache II vessel then taken ashore.
Carla will now be cared for by the Scottish SPCA until she is well enough to be released.
Technip's offshore construction manager Daz Turner said: "I cut ventilation holes in her box and the onboard handyman made a grating for the top of her box for more ventilation.
"The crew on the Skandi Carla were concerned that she might have a broken leg, but she is standing on both legs now and her wings look okay too.
"She seems to be improving all the time as she regains her strength."
'Perfect guest'
Mr Turner said initial attempts to feed Carla were unsuccessful but she managed to gobble down two large strips of fresh fish fillet.
He explained: "We gave her a whole fresh trout for her next meal. She was eating better than the rest of us onboard.
"Carla has been a perfect guest and not made a noise.
"Normally I play music after work in the evenings, but I have made do with reading quietly while Carla potters about in her box."