Footdee foam clears as area returns to normal after storms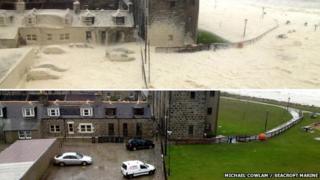 The North Sea foam which swept into Aberdeen during storms on Tuesday has now cleared.
Huge quantities of spume covered cars and buildings at the Footdee area, and coverage of the phenomenon became one of the most read stories and most watched videos on the BBC website.
Experts said it was likely that easterly gales had whipped up organic material in the sea to cause the foam.
The winds reached about 70mph during the storms on Tuesday.
Marine Scotland Scientists have sampled the foam and seawater around Footdee, using a microscope to examine the phytoplankton - very small algae - present.
A spokesman said: "Examination of the foam showed it to contain a lot of detritus as well as some very small phytoplankton cells.
"This is in line with the foam event being caused by the breakdown of organic matter as a result of the turbulence caused by the high winds on Monday and Tuesday."
Aberdeen Council said it could take a year to carry out repairs to the damage caused to trees and woodland.
The local authority said workers were still trying to catch up with the effects of the last big storm in December last year.
The cost of the clean-up operation has yet to be determined.