Probe after Bibby Topaz divers left stranded in North Sea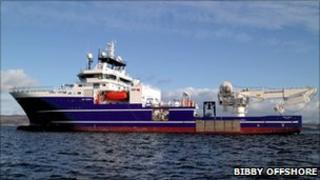 An investigation has been launched after North Sea divers were left stranded when their ship drifted away from them.
The two men - and a third in a diving bell - were carrying out tests 300ft under the surface in the Huntington oil field, 115 miles off Peterhead.
Their ship, the Bibby Topaz, suffered a failure of its positioning system.
One diver suffered a snagged umbilical and lost his air supply and communications, and lost consciousness.
His colleague helped him to the dive bell where he was revived.
All three men were brought back to the surface and treated in a decompression chamber aboard the Bibby Topaz.
Bibby Offshore and the Health and Safety Executive are investigating the incident.