Baby Alexis Matheson's murder: Review says death 'not predictable'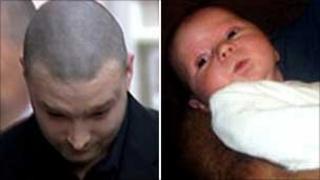 A major review into the case of six-week-old baby murdered in Aberdeen has concluded her death was not predictable from the information available to medical staff at the time.
Mark Simpson was jailed for a minimum of 20 years for killing his then-girlfriend's daughter Alexis Matheson by assaulting her in 2007.
The north east of Scotland child protection committee reviewed the case.
It recommended an overhaul of her GP's phone appointments system.
BBC Scotland had revealed on Tuesday that the report would be published on Friday.
The review was ordered in February last year and headed up by Howard Llewellyn, the chief officer of Tayside community justice authority.
He was asked to establish the facts about individual and agency contacts with the child to learn any lessons and make recommendations.
In his report he stated: "I conclude that her death was not predictable from the information available to practitioners. Whether it would have been preventable is more problematic given the evidence presented at trial.
"I conclude that although her injuries may have been treatable in the few days before her death, her survival was possible rather than probable.
"I do not therefore conclude that her death would have been prevented."
Mr Llewellyn made a total of eight recommendations.
They included a review of the telephone appointments system at the local practice and a review of its practice of prescribing drugs for babies over the phone.
The report also advised that when a young child, especially a new born, is presented for consultation GPs should always consider conducting a physical examination.
Another recommendation suggested that if someone phones looking for advice about a child and an appointment is offered and rejected then the child should be "flagged" and referred for an urgent visit from a health visitor.
NHS Grampian said the GP practices across the region, and throughout Scotland, should learn from the committee's findings and consider the recommendations.
Elinor Smith, associate director of nursing at NHS Grampian and a member of the child protection committee, said: "Alexis' death is a tragedy for her family. The staff that were involved in her care have been deeply affected by this.
"There were no obvious signs and symptoms at the time when our staff saw Alexis Matheson.
"We have all got a role to play in child protection, not only the health professionals but family, friends, neighbours and the wider public as well."
'Unthinkable pain'
Simpson was found guilty in November 2010 of the murder of baby Alexis by shaking her to death, having denied murder by assaulting her between 18 November and 9 December 2007.
He had lived in Aberdeen, with the baby's mother Ilona Sheach.
The Crown urged the jury to convict Simpson for what was described as his "wicked recklessness".
The defence argued there was no sufficient corroborating evidence to say he even assaulted the baby.
Judge Lord Uist had told Simpson: "The pain and agony which baby Alexis must have suffered as a result of the injuries which you inflicted upon her are unthinkable."
He called for a fatal accident inquiry, which is still awaited.