Aberdeen Royal Infirmary improvements ordered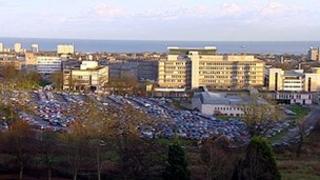 Improvements have been ordered at Aberdeen Royal Infirmary amid infection issue concerns.
The Healthcare Environment Inspectorate (HEI) said NHS Grampian was expected to address six requirements.
HEI acting chief inspector Ian Smith said: "We found that NHS Grampian is making some progress against standards to protect patients, staff and visitors from the risks of acquiring a healthcare associated infection.
"However, improvements are required."
HEI said this included a need for clarity on the roles and responsibilities for infection prevention and control.
The report states: "We are not fully assured that the infection control team pro-actively engages with staff in clinical ward areas.
"There was a lack of information about how the team provides face-to-face support, advice or training to the ward teams at a clinical level.
"We observed evidence of poor waste segregation in three wards inspected. We found numerous examples of clinical waste, such as clinical examination gloves, syringes (without needles attached) and plastic aprons in the black domestic waste bags."
It added: "We looked at 16 commodes, and found that 11 of these were visibly contaminated with blood or body fluid.
"We also found examples of contaminated bedrails, contaminated piped gas supply points and raised toilet seats. In each case we highlighted this to the nurse in charge."
HEI said NHS Grampian should ensure it shares glove selection guidance, contained within the Health Protection Scotland National Infection Prevention and Control Manual, with staff as a "matter of priority".
Action plan
NHS Grampian chief executive Richard Carey said: "There were shortcomings identified in this inspection and we take these very seriously.
"Any equipment that is not as clean as it should be is unacceptable and we are committed to working with staff to address these issues.
"Contamination of any type on our wards is not good enough and we will address this as a matter of urgency."
A "comprehensive action plan" is being finalised.