Reopened Union Terrace Gardens toilets in Aberdeen 'unlikely'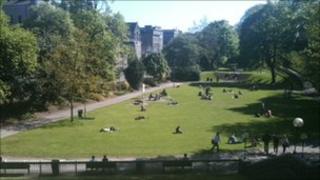 Aberdeen City Council's administration appears to be backtracking on plans to reopen the old Victorian toilets in Union Terrace Gardens.
The ruling Labour-run administration earlier said reopened toilets and a cafe were an option.
It is thought reopening the toilets could cost between £1m and £1.5m.
However Neil Cooney, convener of the housing and environment committee, told BBC Scotland it very unliklely such sums would be spent on a restoration.
He said they would be unsuitable for disabled access, and more modern toilets nearby were more likely.
Councillors voted to scrap the £140m City Garden Project plan to transform the historic Union Terrace Gardens last month.