Shetland council committee backs school closure plans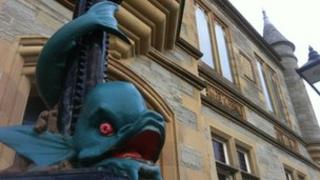 Councillors in Shetland have voted to start consulting on nine school closures.
Junior highs in Aith, Sandwick, Whalsay and Skerries and primaries in Sandness, Olnafirth, North Roe, Urafirth and Burravoe are under threat.
An amendment to remove Baltasound junior high from the list was accepted.
The Education Committee was told if the plans were rejected the council would have to cut £1,000 a year from what it spends on every single pupil.
Shetland's Council has been trying to reshape education across the islands for at least the past 11 years. But a report from officers said little change has been achieved despite "extensive consultations".
Council leader Gary Robinson said: "The reality is we're spending significantly more on education than comparable authorities.
"That's all well and good when we have the money and we can afford to do it.
"But the reality is we need to bring our budget down to somewhere in the region of £104m. We have been spending considerably more than that."
A second amendment from committee vice-chair Councillor George Smith was voted through that requires the issue to come back to the committee if the council decides on priorities which means the schools can be saved after all, or if other ways of saving the cash can be identified.
Councillor Smith said: "This new council should have spent significant amounts of time in its very first new weeks familiarising itself with what it is we currently spend our money on, rather than what it is we might not be able to spend our money on."
And he denied that was just a way of deferring difficult decisions.
He added: "It's absolutely about having the information in front of us so that we can, for once and for all, set our priorities, get this behind us, and move on in terms of delivering the services that are deemed to be the most important to the people of Shetland."