Barry Copeland honoured for safety work after family crash deaths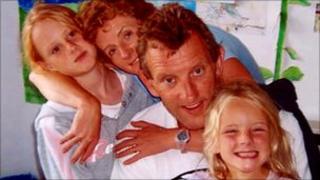 A man whose wife and two children died in a crash has been honoured for his work to improve mobile crane safety.
Ann Copeland, 45, and daughters Ciara, seven, and Niamh, 10, from Johnshaven, died after their car skidded on the A92 in Aberdeenshire in January 2008.
A fatal accident inquiry (FAI) heard hydraulic oil had leaked from a crane.
The Institution of Occupational Safety and Health has awarded Barry Copeland - who is lobbying for MOTs for mobile cranes - a certificate of merit.
He said: "It's an honour, as I feel it's some kind of recognition that what I've been campaigning for is right.
"Every time I see a large mobile crane travelling on a road - a common occurrence, even on dual carriageways and motorways - I'm reminded how bizarre it is that they aren't required to have an MOT.
"I just want to try to reduce the chances of the same thing happening to somebody else and hopefully make Scotland's roads a little safer in the future."
Witness Hamish Anderson told the FAI he discovered several gallons of hydraulic oil had leaked from his vehicle.
He admitted he did not check the levels regularly.
Mr Anderson told the FAI that such checks were carried out when there was time.
Under questioning, he agreed it was really just an exercise in box ticking.