Orkney study sheds light on lives of brown crabs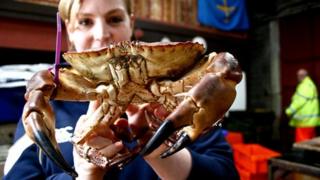 A study involving fishermen in Orkney has been shedding new light on the lives of brown crabs, with some found to travel more than 100 miles.
Researchers from Heriot-Watt's International Centre for Island Technology (ICIT) in Stromness have been tagging the crabs.
They found one female crab released off the island of Westray was caught 125 miles away near the Butt of Lewis.
The study is being discussed at the Orkney International Science Festival.
Project co-ordinator Kate Walker from ICIT, said: ''We've had really, really good returns.
"All the fishermen know about it and if they see one of my tags they write down the coordinates and let me know, which is good.
"And we've even got some of the fishermen actively tagging, which is also very good because I think it's good that they are involved in what the science is doing in Orkney and understand their fishery as well.''