Plans detail Union Terrace Gardens cafe and toilets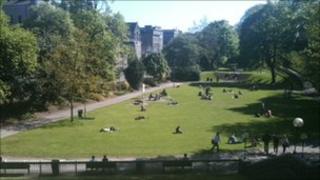 Aberdeen City Council's plans for regenerating Union Terrace Gardens will include a cafe and reopened toilets, the ruling administration has said.
Leaders of the Labour, Conservative and Independent administration called for the city to move on from the row over the £140m City Garden Project.
Councillors voted to scrap the plan to transform the historic Union Terrace Gardens last month.
More detail will be released by the council at a later date.
The decision to scrap the project was raised at Holyrood as MSPs returned after the summer break earlier this week.
Infrastructure Secretary Alex Neil confirmed to the chamber that there was no chance of the city receiving Tax Incremental Financing (TIF) funding for any scheme that did not involve the transformation of Union Terrace Gardens.