Fraserburgh 'black fish' father and son Ernest and Allan Simpson fined £130,000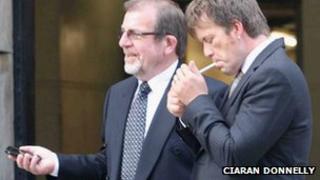 A father and son from Fraserburgh have each been fined £65,000 after admitting their involvement in a so-called black fish operation.
Fishermen Ernest Simpson, 65, and Allan Simpson, 43, of the Christina S, were involved in illegal landings worth millions of pounds.
They had already received confiscation orders of more than £350,000 each.
At the High Court in Edinburgh, Lord Turnbull said it was a "calculated determination" to avoid quotas.
The judge said those who flouted quotas had brought shame on the fishing industry.