New Aberdeen FC park 'killed off', says Stewart Milne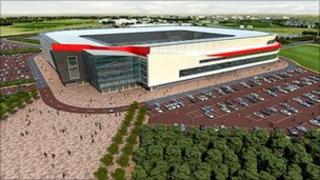 Aberdeen Football Club chairman Stewart Milne has said its planned move to a new stadium has effectively been "killed off" by the city council.
The Dons were hoping a new community sports centre at Cove would double as a training facility for the club, which wanted to open a new ground nearby.
Aberdeen City Council threw out plans for the centre on Wednesday evening.
Councillors voted to to take control of the land to look into other development opportunities in the area.
Local authority leader Barney Crockett said he was confident a deal could still be reached with the club.
Aberdeen FC was hoping to site a new 21,000-seater stadium close to the proposed Calder Park community sports centre.
The club had planned to move from Pittodrie to a new ground at Loirston Loch, on the southern outskirts of the city, for the start of the 2014-15 season.
Mr Milne, who said the use of Calder Park to train was vital to the proposals, said in a statement: "Disappointment and frustration do not come close to how my colleagues and I are feeling right now.
"As was made crystal clear, the Calder Park development has been designed as part of the master planning exercise to be completely integral with the new AFC stadium at Loirston, and this decision has effectively also killed off that development."
Mr Milne said the "illogical" decision could have "major implications" for the football club.
Responding to the comments, Mr Crockett told BBC Radio's Good Morning Scotland programme: "Megaphone diplomacy is not helpful.
"It's not at all closed the door on anything."
Mr Crockett said the Calder Park decision was backed by Labour, Tory, Liberal Democrat and independent councillors, while the gap between them and SNP members was "very small".
"There's no decision that directly pertains to Aberdeen Football Club that was made yesterday, and there's a lot of room for discussion and I'm very optimistic that we can produce an outcome there that can satisfy people," said the council leader.