Missing red kite Professor Feathers at 'love nest'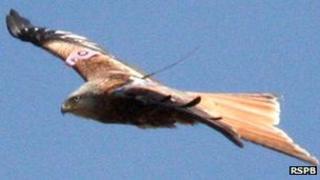 A red kite which disappeared from the Highlands has been traced to a "love nest" in Aberdeenshire.
The bird of prey - named Professor Feathers - had a satellite tag attached as a fledgling in 2009 but little had since been known about his movements.
However, RSPB Scotland said it had now emerged Professor Feathers, from the Black Isle, had set up home with a kite, Red Blaze, from an Aberdeen re-introduction programme.
They have reared three chicks together.
RSPB red kite officer Jenny Lennon said: "What makes Professor Feathers and Red Blaze so interesting is that the pair are breeding in a completely new area away from all other established pairs.
"Other birds we have tracked from the Black Isle and Aberdeen have bred as far south as Dumfries and Galloway but this is the first instance we've seen of birds from the north and east Scotland populations breeding together.
"This is an exciting development and may indicate that the species is spreading more widely across their historic range. We hope that the different Scottish populations will continue to expand and meet."
Red kites were once common all over the British Isles, before widespread killings in Victorian times led to just a few pairs surviving.