National Whale and Dolphin Watch under way with sightings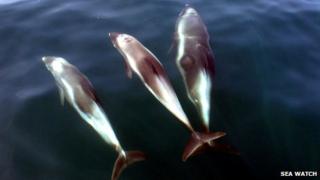 A national whale and dolphin watch is under way.
Sea Watch Foundation's event is taking place around the coast from Friday until Sunday, and members of the public are being asked to report sightings .
Recent sightings include about 30 white-beaked dolphins seen from Stonehaven, and another 20 seen off Aberdeen. A watch will take place at Collieston on Sunday.
Atlantic white-sided dolphins have also been seen off Ullapool.