Climber Rick Allen tells of Mazeno success in Himalayas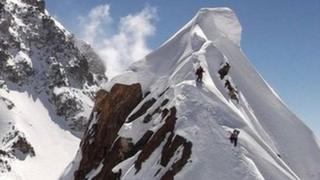 An Aberdeen climber who successfully completed what was described as the last great unclimbed route in the Himalayas has spoken of the feat.
Rick Allen said he has still not recovered from the recent historic expedition which left him "skeletal" and suffering from frostbite.
He and Sandy Allan, of Newtonmore, ascended the peak of Nanga Parbat in Pakistan via the Mazeno Ridge.
Mr Allen told BBC Scotland they ran out of food.
Speaking from Australia, he said: "By the time we got off the mountain I was absolutely skeletal.
"We were on the descent when we ran out of food and gas.
"We met two very experienced climbers and they were very generous to us, and gave us tea from their flasks and chocolate bars, and a lighter to get our stove going."
'Killer Mountain'
Mr Allen added: "We were both quite run down. We pooled out resources to keep one another going."
Nanga Parbat is sometimes called the "Killer Mountain" because of the dangers it poses to climbers.
Speaking of the potential dangers they had overcome, he said: "We were fully aware of what we were faced with."