Aberdeen bypass 'could be referred to European court'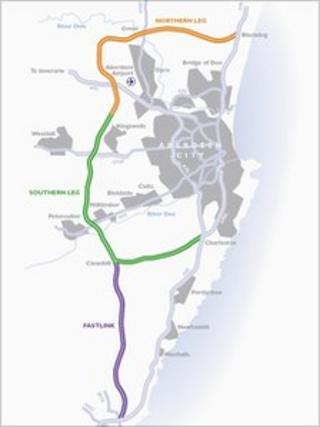 Campaigners opposed to the Aberdeen bypass have said their appeal to the UK's Supreme Court could see the plans referred to Europe.
Road Sense spokesman William Walton said judges could decide to seek an assessment from the European Court of Justice.
A judgement from the Supreme Court is expected within weeks.
The Scottish Government has said it wants to start work on the road as quickly as possible.
Mr Walton had previously said that this week's court action was his last throw of the dice.
But he said it was possible that the case could be sent to the European Court of Justice.
"That would be, in particular, with respect to whether this project required a greater form of assessment, a strategic environmental assessment, which of course it wasn't subject to and that's something the judges have to think about," he said.
The two-day hearing at the Supreme court in London has now ended, with a decision expected by the end of the month.
Business leaders and several politicians have been critical of the number of legal delays to the road, saying it is vital for the north east of Scotland's economy.