Aberdeen bypass campaigners take fight to Supreme Court in London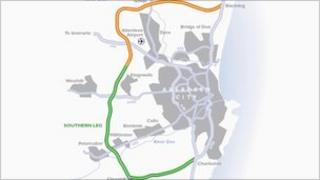 Campaigners who are fighting to stop Aberdeen's bypass will be in London for the start of a two-day hearing.
Appeals by William Walton for the group Road Sense have been rejected twice by judges in Scotland.
However, he said he remained "optimistic" ahead of appearing before judges at the Supreme Court.
Defeat in this latest appeal will almost certainly allow the £400m Aberdeen Western Peripheral Route (AWPR) to go ahead.
Business leaders and several politicians have been critical of the number of legal delays to the road, saying it is vital for the north east of Scotland's economy.
The 28-mile road was given the go-ahead by Scottish ministers in 2009.
Before the London hearing, Mr Walton told BBC Scotland: "We will have to look at what the judgment says. I think the possibility of going to the European Court of Justice, that really is in the gift of the judges in London as to whether they think it is a part of European law that it needs further exploration and clarification.
"Unless that happens then it cannot go to the European Court of Justice and I don't think there is a human rights issue here, so I suspect we are not going to the European Court of Human Rights, in which case this would be the end of the process."
However, Transport Minister Keith Brown said the government had "an iron will" to proceed with the AWPR "as soon as possible".
He added that there had been a public local inquiry and two court hearings upholding the project.
Mr Brown said: "Ministers have done everything in their power to progress the appeal hearing as soon as possible and welcome the start of the next stage of the process.
"We are prepared and ready to defend the appeal so that we can get on and build this much needed road as soon as possible."
Meanwhile, plans to upgrade a section of the A90 between Aberdeen and Ellon have been awarded almost £600,000 of funding by Transport Scotland.
Mr Brown said the ground investigation work would ensure that the Balmedie to Tipperty scheme was brought up to the same level of readiness as the AWPR.