Dive-bombing seagulls stop Royal Mail deliveries in New Elgin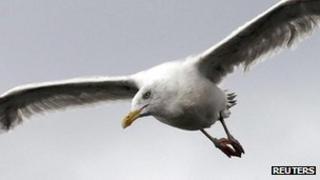 Postal deliveries to several homes in a Moray street have been suspended after the postwoman was repeatedly attacked by aggressive dive-bombing seagulls.
There have been no deliveries for several days, forcing people on Muirfield Road in New Elgin to travel to the post office depot for mail.
Royal Mail has apologised to those customers affected.
It said deliveries would resume when it was safe for staff.
Some local people said there was not a serious problem and claimed newspaper deliveries had been continuing as normal despite the presence of nesting gulls in the area.
Royal Mail spokeswoman Jennifer Bird said: "The regular postwoman delivering to Muirfield Road has been experiencing swooping attacks by seagulls as she delivered her round over the past few weeks.
"Other postmen have also had to deal with the same issue delivering to this area.
"The safety of our people is paramount to Royal Mail and these swooping attacks have made it difficult for her to continue to do her job.
"Unfortunately these frightening attacks have meant that this week we have temporarily suspended deliveries to some addresses in Muirfield Road."
She added: "These kinds of attacks do occur at this time of year across the country as gulls are nesting.
"We apologise to those customers affected and we will resume deliveries as soon as it is safe for our people to do so."