Concern at European mackerel sanctions expressed by Scottish government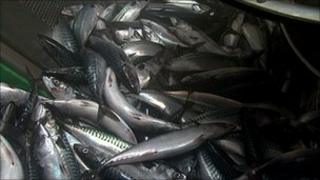 The Scottish government has urged European ministers not to drag their heels over sanctions designed to protect mackerel stocks.
Scottish fishermen have been voicing concern since Iceland and the Faroes announced a sizeable quota increase.
Mackerel is the most valuable stock for the Scottish fleet.
BBC Scotland can reveal it will be September at the earliest before any possible action against the Faroes and Iceland can be agreed.
The European Commission announced last year that it would take action.
It will be September before the European Parliament votes on measures.
The Scottish government said mackerel is "crucially important" to Scotland.
Fisheries Secretary Richard Lochhead said: "The EU is taking forward plans for sanctions against states that fish unsustainably and outwith international agreements.
"I hope that the vote scheduled for September in the European Parliament will lead to effective and enforceable measures being introduced in advance of the 2013 mackerel season."