Bond 'not at fault' for Super Puma ditching says Eurocopter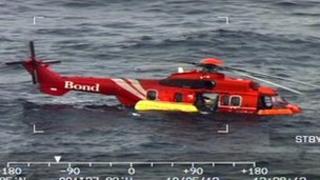 The manufacturer of a Super Puma helicopter involved in a controlled ditching in the North Sea last month has said early investigations suggest operator Bond was not at fault.
All 14 passengers and crew involved in the incident in May, about 30 miles east of Aberdeen, were rescued.
Eurocopter said they had found no operational or procedural error.
The incident was said to have been caused by a rupture of the shaft driving two lubrication pumps.
This led to a loss of oil pressure.
Eurocopter praised the professionalism and skill of the helicopter's pilots and said efforts were continuing to uncover the root cause of the mechanical failure.