Aberdeen bypass campaigners 'delighted' to continue legal fight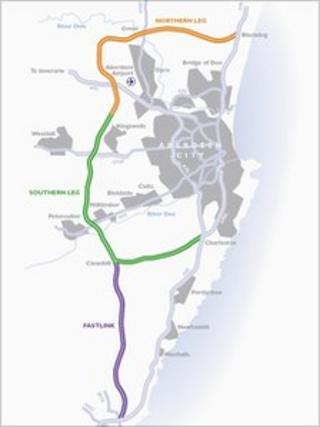 Campaigners against the Aberdeen bypass have told BBC Scotland they will be able to take their case to the Supreme Court in London.
They had been dealt a blow last week with a legal ruling over costs which threatened their representation at the hearing in July.
However, Road Sense spokesman William Walton said other advocates had agreed to step in and the case would proceed.
It will mean they will have full legal representation.
Road Sense has been fighting to block the £400m project.
Mr Walton said of the news: "I am delighted."
Business leaders and several politicians have been critical of the number of legal delays to the road, saying it is vital for the north east of Scotland's economy.
'Iron will'
A Scottish government spokesman said: "The AWPR (Aberdeen Western Peripheral Route) is important for the future prosperity of the north east and Scotland as a whole.
"It will provide substantial benefits to the economy; increase business and tourism opportunities, improve safety, cut congestion and increase opportunities for improvements in public transport facilities.
"The Scottish government has an iron will to proceed with the AWPR as soon as possible. Our position is that it is in the interests of the public as a whole that this appeal be concluded without further delay.
He added: "Ministers have done everything in their power to progress the appeal hearing and welcome the decision to hold the next stage of the process in early July.
"We are prepared and ready to defend the appeal then so that we can get on and build this much needed road as soon as possible."
'Wearing thin'
Tom Smith, chairman of Aberdeen City and Shire Economic Future (Acsef), said: "We should have been driving on the much-needed bypass by now rather than hearing about further legal wranglings.
"The patience of people is now wearing very thin and for their sake and for the economic future of the region, we hope that the Supreme Court agrees with the decision made by four successive Scottish judges and the procurement process for the AWPR can begin sooner rather than later."
Opponents previously said they were "disappointed" at the decision of Scottish judges to refuse an appeal.
The 28-mile road was given the go-ahead by Scottish ministers in 2009.