Aberdeen bypass campaign group Road Sense hit by court ruling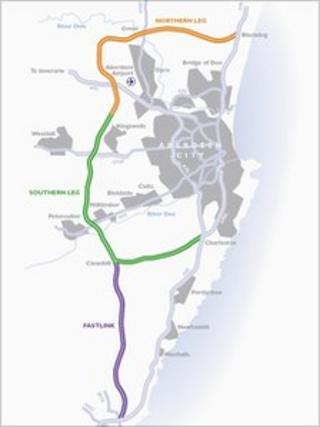 Campaigners against the Aberdeen bypass have said a ruling over their costs for an appeal to the Supreme Court has left them with a severe handicap.
Campaign group Road Sense has been fighting to block the £400m project.
The court has now ruled group chairman William Walton will have to pay £5,000 if he loses his action.
However, if he wins, the Scottish government will only be liable to pay for Mr Walton's QC and solicitor - and not a junior counsel.
Mr Walton told BBC Scotland he was taking legal advice on the ruling.
Business leaders and several politicians have been critical of the number of legal delays to the road, saying it is vital for the north east of Scotland's economy.
Opponents previously said they were "disappointed" at the decision of Scottish judges to refuse an appeal.
Road Sense then said it would go to the Supreme Court in London, and dates of 9 and 10 July were set for a hearing.
Transport Minister Keith Brown has said steps have been taken to try and make the latest legal process as prompt as possible.
The 28-mile road was given the go-ahead by Scottish ministers in 2009.