Gas leak at Elgin platform in North Sea 'has been stopped'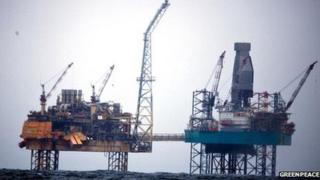 The gas leak from the Elgin platform in the North Sea has been stopped, according to oil firm Total.
The company's platform was evacuated when the gas began leaking on Sunday 25 March.
An attempt to stop the leak by pumping heavy mud into the well got under way on Tuesday.
Total said the operation had stopped the well leak within 12 hours and described the development as a "major turning point".
Learn lessons
Yves-Louis Darricarrère, Total's president of exploration and production, said: "Our absolute priority was to stop the gas leak safely and as quickly as possible.
"We shall now fully complete the ongoing task and take into account the lessons learnt from this incident."
Scottish Secretary Michael Moore, said: "This is welcome news from the Elgin platform and good progress.
"The UK government has been in touch with the company throughout this incident, and DECC has closely monitored progress throughout.
"I am certain that key lessons will be learned from this leak which can be applied across the sector."
Scottish Environment Secretary Richard Lochhead, added: "This is clearly good news from Total that the initial efforts to stop the Elgin gas leak appear to have been successful.
"Further monitoring will be needed to ensure that this is a lasting solution, but this is a welcome step in the right direction."