Oldest woman in Scotland Janet Roberts dies, aged 110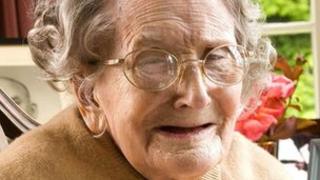 Scotland's oldest person has died at the age of 110.
Janet Sheed Roberts, who celebrated her 110th birthday last August, is understood to have died last week.
She was born in Cabrach, in Moray, in the summer of 1901 and was the last surviving granddaughter of William Grant, who founded the Glenfiddich distillery in Dufftown in 1886.
Mrs Roberts lived just a few miles from the distillery, and had a whisky named after her.
Eleven bottles of the Glenfiddich Janet Sheed Roberts Reserve were produced to mark her 110th birthday.
Olympic runner
The first bottle was sold at the Bonham's whisky auction in Edinburgh on 14 December last year, fetching £46,850 which was donated to international charity WaterAid.
Another bottle was sold on 10 February for £44,000 at an event hosted by the Walking with the Wounded charity.
Then at an auction in New York on 15 March a bottle sold for US$94,000 (£59,252), breaking the record for the most expensive bottle of whisky ever sold at auction.
Mrs Roberts studied at both Glasgow and Edinburgh universities, reading law at Edinburgh, where she was the only woman in her class.
She played hockey there and during one mixed game is reported to have found herself marking Eric Liddell, whose Olympic success was captured in the film Chariots Of Fire.
Mrs Roberts practised law for many years and met her husband Eric at the firm McGrigor Donald.
Mr Roberts later became a director of William Grant and Son and she promoted the business around the world with him.
Peter Gordon, Glenfiddich chairman and Mrs Roberts' great-nephew said: "We have lost an incredible woman. My great-aunt's contributions to the business and support for the family members who did so much to make the company the success it is today were immeasurable.
"She lived a remarkable life and witnessed great change at the Glenfiddich distillery over the past 110 years, and she will be sadly missed by all of us."