Total gas leak: Elgin platform 'mud kill' plan to proceed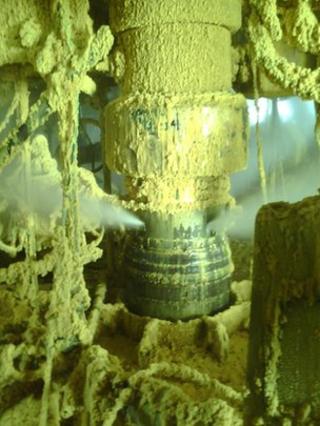 Emergency engineers have said plans to pump heavy mud into the pipeline leaking gas on board a North Sea platform can go ahead.
A team from operators Total flew out to inspect the leak on Thursday.
They said there was no "showstopper" for the "dynamic kill" plan to plug the Elgin platform well with mud.
Total has also released the first picture which shows the gas leaking from four points on a wellhead at the installation.
It comes as a Scottish government marine research vessel has set sail to carry out a four-day environmental assessment at the site.
Marine Scotland, Sepa, the Health and Safety Executive and Scottish Natural Heritage are among the bodies involved.
The eight people from the Total team who boarded the Elgin on Thursday, 150 miles east of Aberdeen, included three workers who were familiar with the installation and five others from a company called Wild Well Control which specialises in capping wells.
The four hour inspection confirmed gas was leaking from the well head but not from underwater. Total said observations also suggested the gas leak rate may have decreased during the last few days.
After returning the team said well intervention plans could proceed as planned.
A spokesman for Wild Well Control said: "We achieved our goals. Everything went as we would have hoped and the planned well intervention is achievable.
"There is certainly no showstopper to launch the well control operation."
Thursday's visit, was the first time anybody had been back to the platform since it was evacuated almost a fortnight ago.
'Potential impact'
Marine Scotland is overseeing the environmental group on board the marine research vessel, set-up to examine the impact of the leak.
Scientists will spend the Easter weekend collecting and analysing sea samples from the survey ship Alba na Mara.
Scottish Environment Secretary Richard Lochhead said the evidence, so far, suggested the impact of the gas leak had been minimal.
He told BBC Scotland: "This is an ongoing gas leak and that is why we have employed our own vessel to go to sea to take samples, of the water, the sediment, fish stocks etc.
"I don't anticipate any evidence of any potential impact on the marine environment, but as long as this gas leak is taking place we have to monitor, on a daily basis, what is happening, and understand what is happening.
"The results from those samples should be available early next week."
Mr Lochhead also said that after talks with Total he believed a well plugging operation could get under way in a week to 10 days.
Total has said three more helicopter trips to the stricken platform will be needed, for further assessments.
The company hopes to be able to carry out the "dynamic killing" of the leak, which involves plugging it with mud.
Alternative plans to drill two relief wells to bring the situation under control are also still being prepared.