Aberdeen bypass challenge set for UK Supreme Court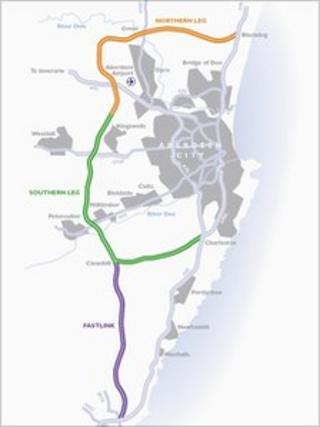 Campaigners trying to prevent the construction of the Aberdeen bypass are taking their fight to the UK Supreme Court, BBC Scotland can reveal.
Opponents said they were "disappointed" at the earlierdecision of Scottish judgesto refuse their appeal.
Road Sense revealed it would now go to the Supreme Court in London, despite bypass supporters calling on the organisation to stop blocking progress.
The Scottish government said the news was "desperately disappointing".
It is understood the process could take several months.
The 28-mile road was given the go-ahead by Scottish ministers in 2009.
Transport Minister Keith Brown said: "The Scottish government has an iron will to proceed with this vital project as soon as the legal process is concluded.
"There has now been a parliamentary process, a public local inquiry and two clear and comprehensive court verdicts giving the green light to the road.
"Any further delay will simply cost the people of Scotland money and subject the people of the Aberdeen area to more years of congestion.
"I strongly believe that the vast majority of people in the north east are running out of patience and, like us, want this vital road built as quickly as possible."
'Fundamentally flawed'
Tom Smith, chairman of Aberdeen City and Shire Economic Future (Acsef), said: "Given that the public local inquiry and two separate legal processes have thrown out the challenge, a new bid by a small number of objectors to go to the Supreme Court is unlikely to stop the route.
"But it will cause further delays which we can ill-afford. Every extra day this route is delayed costs the taxpayer.
"There is some time left before Road Sense must officially declare their intentions and the vast majority of people in the north east and further afield will be hoping that they finally see sense and back down."
Campaigner William Walton has been fighting to block construction of the £400m project.
He argued that a public inquiry into the project had been flawed, but this argument was rejected by a judge last year. Mr Walton then appealed against that decision.
The appeal, before judges in Edinburgh, was heard in December after it was agreed that Mr Walton's costs would be covered, win or lose.
Road Sense argued the process of route selection was "fundamentally flawed and unjust".
Its challenge was rejected in February.
Many business leaders in the area support the scheme.