Total gas leak: Team assesses leak at Elgin platform in North Sea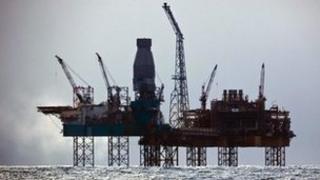 Oil company Total has confirmed that a specialist team boarded the abandoned Elgin platform to inspect it before returning to the mainland.
The team flew to the platform at 10:30 to assess the prospects of stopping the huge gas leak on the installation, 150 miles east of Aberdeen.
They spent four hours on board before safely returning to Aberdeen.
An attempt to board the platform on Wednesday had been postponed due to poor weather conditions.
A spokesman for Total said Thursday's operation was a "key milestone toward bringing the situation under control".
The team of eight who boarded the Elgin included three workers who were familiar with the installation and five people from a company called Wild Well Control which specialises in capping wells.
The spokesman added: "The team spent nearly four hours on the Elgin complex to gather preliminary information that will be used to assist in preparation for deploying the necessary equipment to perform a well control operation.
"The aim of the reconnaissance mission was to carry out a preliminary survey of the leak area, establish zones which can be safely accessed and gather data on the G4 well. The team also sought to visually confirm potential pipeline and hose routing options and tie-in points for equipment required in any well control operation.
"Plans are also still progressing for the drilling of a relief well, as well as a backup relief well."
All workers were removed from the platform when the leak was detected at the end of last month.
The company believes it is coming from a rock formation above the main reservoir, at a depth of 4,000m.
'Dynamic killing'
Air and sea exclusion zones were set up in the area after the leak began.
Total said the team, including specialists from American company Wild Well Control, was going in to assess the leak and see what could be done to stop it.
Total hopes to be able to carry out a "dynamic killing" of the leak. This would involve pumping heavy mud back in at high pressure in an attempt to stabilise the well, so it can then be plugged.
The French oil giant confirmed over the weekend that a flare on the Elgin platform had extinguished itself.
It has been estimated the situation is costing Total an estimated $1.5m (£940,000) a day in lost production.