University of Aberdeen scientists probe 'cabbage benefits'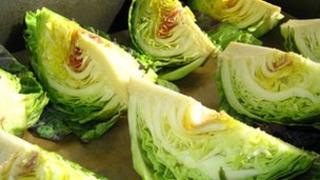 University of Aberdeen scientists are investigating if compounds found in cabbage could help fight diseases such as cancer.
The Rowett Institute of Nutrition and Health team is probing the potential benefits of different varieties of the vegetable produced in Scotland.
Dr Wendy Russell, who is leading the project, said volunteers would eat kale, white and red cabbage.
Healthy non-smokers from Aberdeen and Aberdeenshire aged 18 to 55 are sought.
Anyone interested in taking part in the study can get in touch via 01224 738785 or D.Bremner@abdn.ac.uk