Aberdeen's City Garden Project: Referendum 'was fair'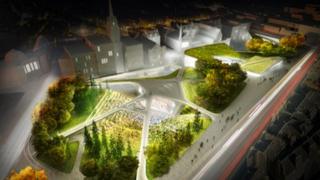 The man in charge of the referendum on plans to transform Aberdeen's Union Terrace Gardens has insisted it was as fair as he could make it.
The ballot delivered a narrow yes vote in favour of the £140m City Garden Project to transform the gardens.
Opponents claim it was swung by propaganda.
Counting officer Crawford Langley told a full meeting of the city council he was satisfied the process was "as fair as I could possibly make it".
Campaign group Friends of Union Terrace Gardens said the pro-campaign heavily outweighed their own because they were not required to stick within a campaign limit of £8,000.
That was because they chose not to register as an "interested party".
'Seriously flawed'
Spokesman Mike Shepherd told the meeting it meant supporters had been able to spend tens of thousands of pounds on advertising which, he said, "bought" a marginal result.
He said: "This was not a fair referendum. We do not accept the result. The process was seriously flawed."
The counting officer admitted there was nothing he could do because there were so few laws covering a local referendum.
But on the legitimacy of the count, he said it was more secure than an ordinary election.
Councillors voted to note Mr Langley's report and forward it to the Scottish government and Cosla.
Business rates
People were asked if they wanted to retain the gardens or back the City Garden Project redevelopment.
More than 86,000 votes were cast online, by post and by phone during the referendum. There were 45,301 votes in favour of the project, with 41,175 people opposed to the plans.
Businessman Sir Ian Wood is backing the Granite Web design with £50m of his own money.
Opponents claim the redevelopment is wrong for Aberdeen.
Tax Incremental Financing(TIF) would see a £92m loan being paid back by increased income from business rates.
If it goes ahead, the project could be finished by 2017.