Elgin North Sea gas leak: Team could travel out soon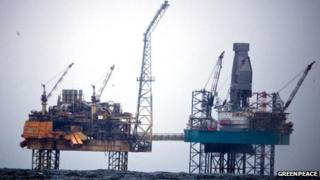 A team of experts could travel out to the stricken Elgin platform in the North Sea on Wednesday.
All workers were removed from the installation, 150 miles off Aberdeen, when gas began escaping nine days ago.
Operator Total said a team was preparing to fly out to the platform either on Wednesday afternoon or Thursday, depending on the weather.
A Greenpeace ship is on the edge of the exclusion zone to test air and water samples.
Total and the Scottish government have said the impact of the gas on the environment has been minimal so far.
The oil company believes the leak is coming from a rock formation above the main reservoir, at a depth of 4,000m.
Meanwhile, environmental campaigners have warned that the gas leak will make it more difficult for Scotland to meet its climate change targets this year.
Dr Richard Dixon, director of WWF Scotland, estimated the impact of the leak on the country's greenhouse gas emissions could be the equivalent of adding about 300,000 cars to Scotland's roads.
The Scottish government said it was fully committed to meeting climate change targets.
A spokeswoman added: "Clearly at this stage it is not possible to estimate what the total quantity of leaked methane will be from the Elgin platform.
"Total are continuing operations to bring the issue to a successful conclusion."