North Sea Elgin platform gas leak: 'No evidence of human error'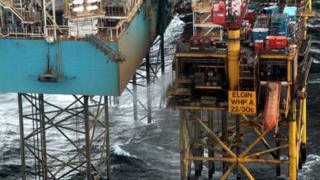 Human error does not appear to be the cause of the North Sea gas leak, according to oil company Total.
The leak at theElgin platform, 150 miles off Aberdeen, has been ongoing since Sunday, when workers were evacuated.
The oil firm said problems with the well were first noticed a month earlier, on 25 February.
Total UK's managing director Phillipe Guys said: "At this time there is no evidence of human error."
The company believes the leak is coming from a rock formation above the main reservoir, at a depth of 4,000m.
'Delivered as intended'
At a press conference in Aberdeen, Mr Guys said he wanted to "commend everyone" for ensuring the safety of personnel after the escape, which was the "top priority".
Energy Minister Charles Hendry said the emergency plan in the wake of the gas leak had been "delivered as intended".
He said about 3% of the total output from the North Sea had been lost by the shutdown.
Mr Hendry added that there was a need for openness.
Total earlier said the main gas-producing reservoir for the installation, situated at a depth of 5,500m, had been plugged for more than a year.
All 238 workers were removed from the installation and the nearby Rowan Viking drilling rig.
The Unite union has said the three-mile zone should be increased to five miles.
Greenpeace has expressed deep concern about the wider implications of the gas leak in the North Sea.
The environmental group's executive director John Sauven said it showed the risks of other ventures in the world's oceans.
The flare is still burning on the North Sea platform.
It is regarded as too dangerous to return to the Elgin platform to extinguish it.
However, the company insists there is still no risk the flare will ignite the gas cloud beneath the platform.
Total is currently considering options including drilling a relief well, which could take months.
Shell has also removed nearby personnel.