Shetland leads Bank of Scotland Quality of Life list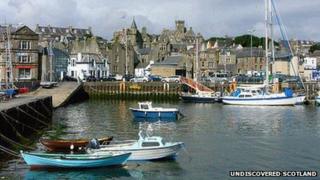 Shetland has the best quality of life of any rural area in Scotland, according to a new Bank of Scotland survey.
The report looked into six main areas of rural life and found that Shetland was above national averages in many.
Scottish island communities occupy two of the top positions in the annual survey.
Shetland and Orkney are joined in the leading five by Aberdeenshire, East Lothian and Moray.
Nitesh Patel, an economist for the Bank of Scotland, explained that Shetland had performed consistently well in the survey in recent years, across a range of indicators.
He said: "The islands score highly relative to the average for Scotland on several indicators, such as health, life expectancy, employment, average earnings, school results and low crime rates.
"Even average house prices are relatively low in relation to earnings, highlighting that a high standard of living does not always come at a high price."
According to the survey, residents in Shetland have a higher-than-average life expectancy of over 77 years.
The level of school qualifications is also above the national average, with 91% of pupils achieving five or more SCQF level 4 awards, compared to the Scotland average of 78%.
However, only just over half of households in Shetland have a good level of broadband access.
Good health
The Northern Isles did well in the report, with both Shetland and Orkney featuring in the top three areas.
In Shetland and Orkney 93% of people reported that they were in good or fairly good health.
Aberdeenshire came second in the annual survey, with an employment rate of 81% and the highest weekly average earnings in the country, at £642 per week.
Residents in Aberdeenshire also enjoy a relatively good climate with less rainfall per year that the average for Scotland, and, on average, one hour more sunshine per week.
Both Shetland and Aberdeenshire also feature in the top 50 rural areas quality of life survey for Britain as a whole.