Spring sunshine sets Scottish temperature record for March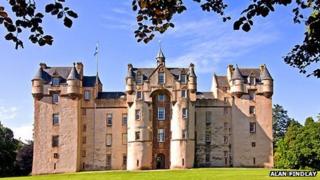 Sunday spring sunshine has set temperatures rising to a new record for Scotland in March.
Fyvie Castle, in Aberdeenshire, recorded a temperature of 22.8C shortly after 15:30, edging past the previous high of 22.2C.
This had been set in March 1957 at Gordon Castle, in Moray, and again at Strachan, in Kincardineshire, in 1965.
The warmest ever UK March day stands at 25.6C, which was set at Mepal in Cambridgeshire in 1968.
The sunny spell has seen the majority of the country enjoy a weekend of fine weather, warmer than southerly parts of continental Europe, including Barcelona, Nice, Majorca and Faro in Portugal.
However lingering fog kept temperatures down to about 6C in East Anglia and Kent.
At Kew Gardens in west London the maximum temperature was 14.1C at 14:00, compared with 19.6C on Saturday.
BBC Scotland weather forecaster Stav Danaos said Monday could be another fine and dry afternoon with unbroken sunshine for all parts.
Temperatures will reach 18C or 19C generally for much of the Scottish mainland, with the north east corner seeing a possible 22C or 23C again.
After a chilly night, Tuesday will see little change, with all parts seeing plenty of sunshine, but maybe a degree or two down on Monday.