Aberdeen City Council faces Animal Concern 'prosecution warning' at Tullos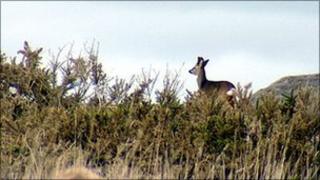 An animal campaign group has warned Aberdeen City Council it believes staff could face prosecution over gorse clearing work ahead of sapling planting and a planned deer cull.
Several animals face being killed at Tullos Hill, in order to protect about 80,000 new trees being planted.
Aberdeen City Council has said the cull was vital to preserve the area.
Animal Concern advice line said it had asked police to probe if clearing gorse and shrubs was a wildlife offence.
John Robins, of Acal, said staff and volunteers involved in the Tree for Every Citizen project could face prosecution under wildlife crime laws.
Mr Robins said gorse is a favoured nesting habitat for a variety of birds including members of the finch family, and that it was a criminal offence to disturb or destroy active nests or to harm eggs or chicks.
He said he had contacted Grampian Police, the Scottish SPCA and the RSPB Scotland, and called for work to be suspended.
'Raise young'
He said: "This tree planting scheme has gone from insane to criminally insane.
"Who in their right mind orders clearance of nest sites just at the time when song birds are nesting and then sends in an army of tree planters when ground nesting birds are trying to raise their young?"
An Aberdeen City Council spokesman said: "A small proportion of gorse on Tullos Hill will be removed as part of the Tree for Every Citizen scheme.
"All relevant parties were consulted before the scheme was agreed and the application was thoroughly scrutinised by the Forestry Commission before funding was approved."