Aberdeen City Council embezzler Jack Downie jailed for two years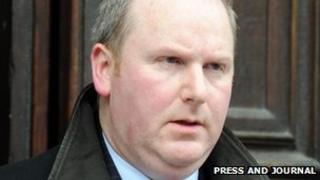 An Aberdeen City Council official who embezzled £386,000 has been jailed for two years.
Jack Downie, 45, of Daviot, Aberdeenshire, admitted the crime, which happened between 2006 and 2010, Aberdeen Sheriff Court heard.
Downie was responsible for processing lump-sum payments to retiring teachers while working at the council.
He used the money for luxury goods such as a Range Rover and holidays. Downie is no longer employed by the council.
The court heard Downie used his position to pay money into the bank accounts of his elderly mother and a male friend, who he regarded as "the brother he never had".
Fiscal depute Karen Dow said when Downie was asked about irregularities by senior members of staff at the council he appeared "nervous", and was "sweating profusely".
When he failed to turn up to work for meetings over discrepancies in the accounts, claiming he was ill, he was suspended from his post.
Defence counsel Louis Moll QC said Downie had developed a history of excessive spending following the death of his grandfather.
'Honest man'
He said: "He has a formal diagnosis of bipolar affective disorder.
"He appears to have used his reckless excessive spending as some sort of drug to ease his own human feelings.
"References describe him as a good, kind, honest, generous, caring and compassionate man.
"He has shown disgust, embarrassment and distress at what he has done."
Mr Moll QC said the impact of prison on Downie would be "profound".
Sheriff Graeme Napier said he had no option but to sentence Downie to custody, but said the length of sentence would be dramatically reduced after hearing of his background and mental illness.
'All steps'
He said: "Clearly you are a troubled individual.
"But you went ahead and committed what was, in my mind, a moderately sophisticated embezzlement, by a man who was in a significant position of trust with the local authority - a person who is supposed to be relied upon by senior officials within the authority to look out for this very thing."
A confiscation order was previously made, and a hearing will follow.
An Aberdeen City Council spokesman said: "Jack Downie is no longer employed by Aberdeen City Council.
"The council is content that the criminal proceedings have had a satisfactory outcome and is taking all steps open to it to recover the monies embezzled."