Facebook 'troll' Sean Duffy sentenced for offensive Sophie Taylor image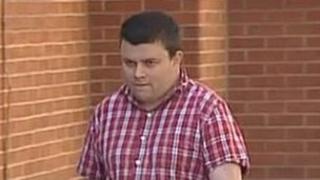 A convicted internet "troll" who posted an offensive image of a teenage shooting victim on Facebook has been given community service.
Sophie Taylor, 16, was accidentally shot by boyfriend Calum Murray, 18, at a cottage near Tomintoul, Moray, last April. The trainee gamekeeper then turned the gun on himself.
Sean Duffy, 26, from the Reading area, admitted posting the doctored image.
Duffy was given 300 hours of community service at Aberdeen Sheriff Court.
He was also given a two-year supervision order and banned from joining social network sites.
The court heard relatives of Miss Taylor were left "cold, shocked and angry" by the image.
Defence agent Neil McRobert told the court that Duffy, who was diagnosed with Asperger syndrome when he was five, was in retrospect, "devastated, ashamed and upset" about what he had done.
He added: "I'm further instructed to make a public apology to all those who have been affected by his actions."
He was sentenced to 18 weeks in prison last September after admitting two "trolling" charges - a term used to describe the trend of anonymously seeking to provoke outrage by posting insults and abuse online.
BBC Scotland revealed on 20 April last year that police were investigating after a doctored Facebook image had been posted on Sophie's tribute page.
The image depicted the teenager with gunshot injuries.
A spokeswoman for Facebook said the image had later been removed.
On the tribute page, those close to Sophie called for whoever was responsible to be brought to justice.
'Vile offences'
District procurator fiscal Andrew Richardson said after the sentencing: "The cruel and callous actions of Sean Duffy added to what was already a very distressing and traumatic time for people trying to come to terms with the loss of a loved one.
"Online behaviour such as this is deplorable and unacceptable. As prosecutors we will take a rigorous and firm approach to any such vile offences ensuring criminals like Sean Duffy are prosecuted."
Duffy was jailed last September for posting abusive messages online about Worcestershire teenager Natasha MacBryde after she committed suicide.
He had pleaded guilty at Reading Magistrates' Court to sending indecent or offensive communications.
The charges related to Facebook and YouTube posts about Miss MacBryde, 15, from Bromsgrove, who Duffy had never met.
He was traced by police through information from his internet service provider and arrested.
Miss MacBryde had thrown herself under a train after being bullied.