Vattenfall fills last Emec berth on Orkney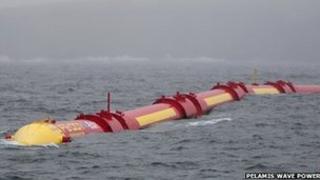 The last remaining berth at Scotland's ocean energy research centre in Orkney has been filled by one of Europe's leading energy companies.
Vattenfall said it hoped to start testing a wave energy conversion machine at the European Marine Energy Centre (Emec) in 2014.
The machine had been built by Edinburgh-based Pelamis Wave Power.
The deal is dependent on Vattenfall making progress with its 10MW Aegir ocean energy development off Shetland.
Vattenfall hopes to submit a formal planning application for Aegir to Marine Scotland in 2014.
But the project is largely dependent on an electricity cable being laid between the islands and the Scottish mainland.
Veijo Huusko, of Vattenfall, said: "If Vattenfall is to use ocean energy to support its long-term shift to low carbon generation it needs to be confident that the technology it uses will be safe, reliable and productive.
"That is why we plan to purchase Pelamis Wave Power's latest, second-generation machine and test it at the European Marine Energy Centre in Orkney.
"However, the final decision on purchasing a machine for testing will, in part, be based on our expectation of there being an interconnector cable being laid between the Shetland Islands and the Scottish mainland."
SSE, the transmission operator in the north of Scotland, has said that it would progress a connection once there was sufficient generation capacity to justify the investment.
Mr Huusko added: "Scotland remains the most attractive place to explore the possibilities of ocean energy thanks to strong political backing, appropriate financial support and an exceptional energy resource."
Pilot array
Vattenfall hopes that, if testing of the prototype is successful and planning permission for Aegir is granted, the PWP machine will be taken to Shetland and be joined over time by more than nine machines.
If the operation of that pilot array proves successful, further expansion off Shetland would be explored.
Vattenfall, which is Europe's sixth largest producer of electricity and largest producer of heat, recently signed a partnership with Shetland Council and Shetland Charitable Trust to work jointly on investigating such opportunities.
Neil Kermode, managing director at Emec, said: "It is great to know that our facilities are attractive to the major utility companies, who are demonstrating a real commitment to marine renewables in testing these innovative technologies.
"This should instil further confidence in the value of the marine energy industry for potential investors."
'Significant milestone'
Fergus Ewing, the Scottish government's energy minister, said: "Vattenfall's announcement today represents a further significant milestone towards the deployment of commercially viable arrays and is a strong endorsement of Pelamis Wave Power's technology and Emec's unrivalled expertise.
"Vattenfall's ambitious plans for future development will contribute towards Scotland's ambitious renewable energy targets and create new and exciting opportunities for economic development."
Per Hornung Pedersen, chief executive of Pelamis Wave Power, added: "Vattenfall's commitment to securing a berth to test a Pelamis machine demonstrates further evidence of utility endorsement of our technology.
"We look forward to continuing to work closely with them on the Aegir project."