Snake found in middle of Stonehaven street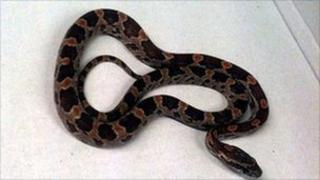 A snake has been found in a Stonehaven street, the BBC Scotland news website has learned.
The snake - believed to be a corn snake about 30cm (12in) long - was found by a woman who thought it was rubber.
The reptile was taken to the town's Kirkton Veterinary Centre, and it is hoped the owner will come forward.
Vet Sam Hutchison said: "It gave her a bit of a shock. It looks healthy, it's either escaped or been dumped. We will try to find who owns this snake."
He added: "It is a bit unusual."
The snake was found in Brickfield Road.