Hen harriers 'reach 20-year high' on Orkney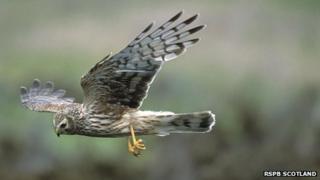 The population of hen harriers on Orkney has reached a 20-year high, RSPB Scotland has said.
Latest figures showed 100 breeding females producing over 100 chicks.
Conservationists hailed as a "remarkable recovery" for a species facing "tough challenges" in other parts of the the country.
RSPB Scotland said a study showed a link between the number of sheep grazed on land favoured by hen harriers and the success of the species.
Eric Meek, Orkney area manager for RSPB Scotland, said: "It is fantastic to see the Orkney population thriving after so many years of decline and demonstrates their ability to bounce back if given the opportunity.
"The story here, in effect, is that if the habitat is in good condition and the weather is not too awful and there is no illegal persecution, then hen harriers will thrive."