Aberdeen gardens referendum debated in Scottish Parliament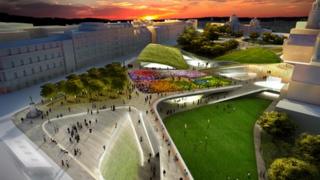 Concerns about the recent Union Terrace Gardens referendum in Aberdeen have been debated at the Scottish Parliament.
The ballot delivered a narrow yes vote in favour of the £140m City Garden Project to transform the gardens.
Labour MSPs led a debate, claiming the referendum was the wrong way to decide on the project.
Local government spokeswoman Sarah Boyack said councillors should have decided.
She said: "We believe that the decision should have been taken by those who were elected."
The SNP's Alex Neil accused Labour of not accepting the public vote.
'Sour grapes'
Mr Neil said: "This is a sour grapes motion because they lost the referendum. The people have spoken."
People were asked if they wanted to retain the gardens or back the City Garden Project redevelopment.
More than 86,000 votes were cast online, by post and by phone during the referendum. There were 45,301 votes in favour of the project, with 41,175 people opposed to the plans.
Businessman Sir Ian Wood is backing the Granite Web design with £50m of his own money.
Opponents claim the redevelopment is wrong for Aberdeen.
Tax Incremental Financing(TIF) would see a £92m loan being paid back by increased income from business rates.
If it goes ahead, the project could be finished by 2017.